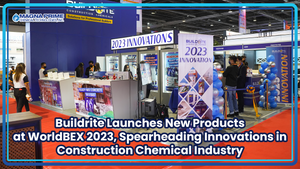 Magna Prime Chemical Technologies, Inc., the parent company of Buildrite Construction Chemicals and Sinclair Paints, continues to accelerate the progress in the country's construction chemical industry as they join The Philippine World Building and Construction Exposition (WorldBEX) this March 16 – 19, 2023 at SMX Convention Center, Pasay City.  Following their announcement of a company tradition to launch new products every year, Buildrite announces several additions to their growing product portfolio, including:  Level Up 410 – a self-Leveling compound for deep pours (4,000 psi at 10-25mm thickness) and quickly smoothing and leveling large areas of concrete.  Cure Sil EB and...
---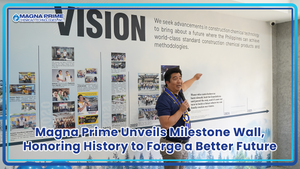 "Those who came before have already laid the foundations and paved the way, and it's now our turn to build a future where we can finally realize our vision of living in a country that can achieve world-class standard construction chemical products and methodologies," said Mr. Tan in his speech.   After achieving an all-time high annual sales record for 2022, Magna Prime Founder and CEO Derrick A. Tan is determined to continue the company's momentum as he introduced this year's theme, ACCELERATE: Train, Strategy, Growth, aiming to provide more training for its employees, further improve its business strategies, and expand...
---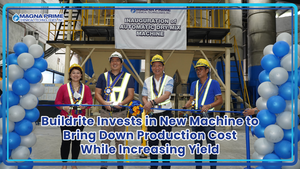 The automatic dry-mix machine is connected to a series of silos for the different dry ingredients. Compared to ordinary machines with separate silos, an automatic dry-mix machine can mix ingredients faster and more accurately than manual methods because of its computerized control system that regulates the flow and proportion of each ingredient. The result is a streamlined production process that significantly improves the overall quality of the final product.
---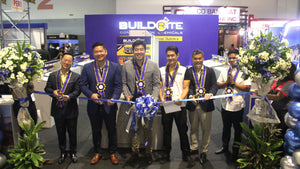 Before PhilConstruct 2022, Magna Prime Founder and CEO Derrick Tan asked a simple question: "What if we do our product launch every year at PhilConstruct?" The team agreed, and the rest is history. November 3, 2022 became a historic day for Magna Prime Chemical Technologies, Inc., as it started a new company tradition, challenging the norms and its competitors while ensuring continuous progress in the construction chemical industry. This year's PhilConstruct exhibition and expo wasn't just another event for Magna Prime; it marked the official start of a company tradition to launch new innovative products every year during the annual...
---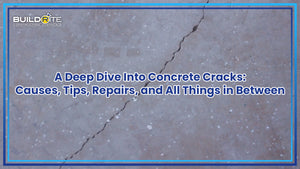 Cracks cannot be ignored.  Small cracks can ruin any beautiful, well-painted wall. Medium cracks pose a threat to the durability of the concrete element. Bigger ones, or commonly called structural cracks, can cause many problems,  Cracks are the most common concrete defect. When left unrepaired for a long time, cracks can cause a lot of trouble.  What is Structural Integrity? Structural integrity determines if a structure was built for its purpose.  Concrete elements, such as slabs, columns, beams, and retaining walls, are designed to carry a definite amount of load or traffic. Some concrete structures are also designed with special...